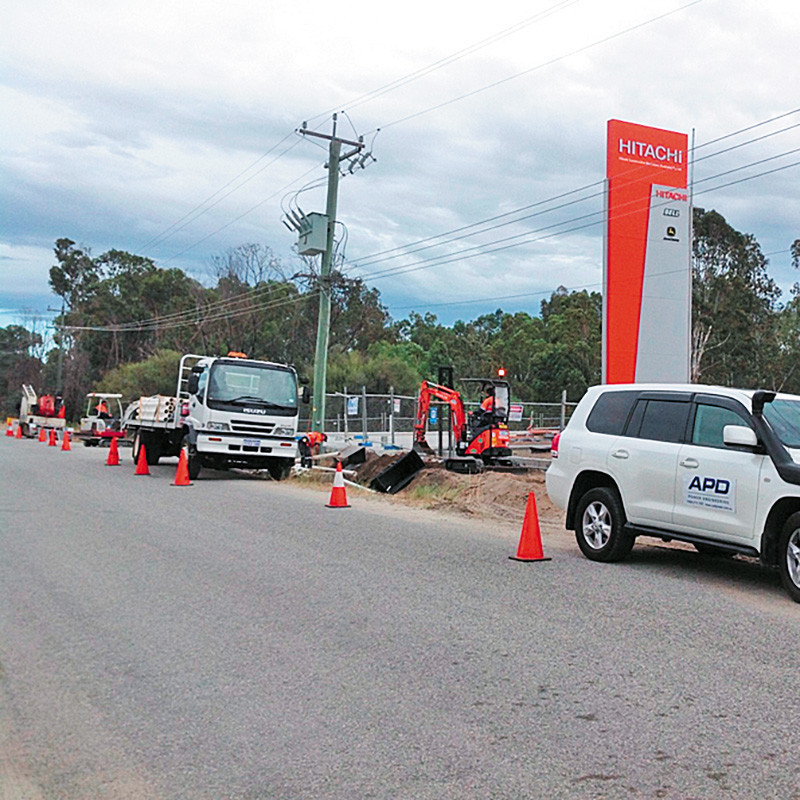 CLIENT: BGC CONSTRUCTION FOR HITACHI
LOCATION: Forrestdale, WA.
SCOPE:
Engineering, Procurement and Construction (EPC).
TECHNICAL SITUATION
APD was required to extend Telstra's communications pit and pipe over 1km:
Engineering feasibility assessment for Hitachi high load vehicle route;
Facilitation of undergrounding works for existing Western Power assets impacting route;
Detailed 3rd Party Pit & Pipe Design to Telstra Specifications and Metropolitan
Redevelopment Authority (MRA) approval;
Location of other utility services in the vicinity of proposed works;
Supply, excavation and install of pit and pipe infrastructure including directional drilling under Tonkin Hwy and Mandrel testing;
Coordination with micro-tunnelling contractor responsible for installation of water and sewerage services under Tonkin Hwy;
Liaison with BGC Construction and other subcontractors to agree on suitable work schedule
Preparation of Traffic Management Plans for lane closures and permits with Main Roads WA;
Provision of all QA documents and testing results to Telstra to facilitate project handover.
SERVICES PROVIDED
Detailed 3rd Party Pit & Pipe Design;
Procurement & Construction Management;
Project & Contract Management;
Site Specific Quality Management System Implementation;
Traffic Management Plans and Site Implementation;
Coordination of Underground Services and Authorities.